Each cosmetologist and dermatologist in their practice repeatedly encounters patients with increased reactivity and skin sensitivity.
What is skin sensitivity?
The concept of "sensitive skin" was introduced by A. Kligman and P. Frosch back in 1977. However, for a long time there was no exact widely accepted opinion regarding the definition of this term. At the International Forum on Pruritus (IFSI) in 2017, a group of European experts came to a consensus and formulated the following definition:
Sensitive skin is a syndrome defined by the occurrence of unpleasant sensations (tingling, burning, pain, itching) in response to stimuli that normally should not cause such sensations. This discomfort cannot be explained by the damage connected with any skin disease. The skin may look normal or be accompanied by erythema. Sensitive skin can appear on all parts of the body, especially on the face."
In real-life situations, during diagnosis and treatment, instead of the term "sensitive skin", it is common to talk about "sensitive skin syndrome" (SSS).
The pathophysiology of skin hypersensitivity is still a matter of scientific debate, and research is ongoing. There are arguments for neuropathic pain/itching as a factor in sensitive skin, that is, skin sensitivity may be related to neural mechanisms.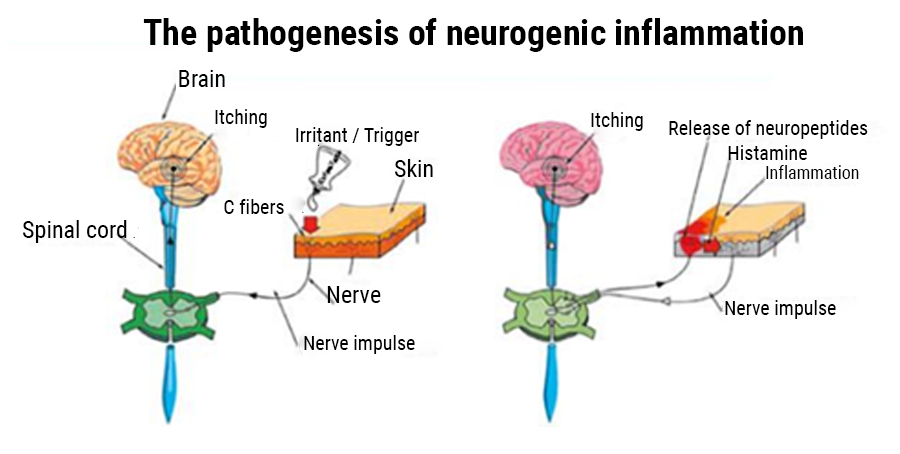 A systematic study of the probable causes of increased skin sensitivity has shown a decrease in the density of intraepidermal nerve fibers as a result of changes in these nerve endings. Abnormal muscle contractions due to reduced ATP synthesis as well as lower skin pH and adiponectin deficiency may also be associated with this phenomenon.
Types of skin sensitivity
The variety of classifications of sensitive skin types also reflects the lack of consensus among dermatologists on this issue: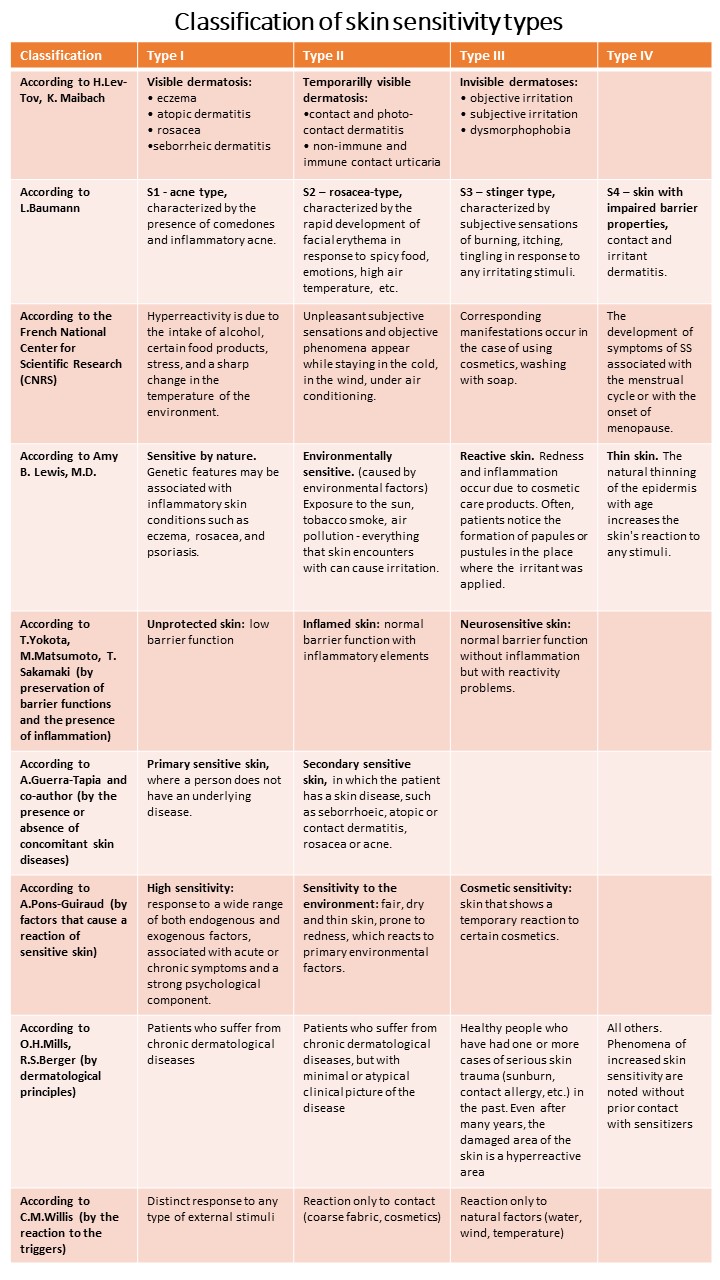 Thus, subtypes of sensitive skin can be distinguished on the basis of provoking factors, the presence of dermatological diseases, the preservation of the barrier function of the skin, the degree of skin reaction to irritants, etc.
What factors and triggers influence the formation of skin sensitivity?
Increased skin reactivity is not always a sign of an allergy. In each case it consists of many symptoms, manifested in varying degrees and in different combinations. These are subjective signs (feeling of tightness, itching, hot flushes and burning, tingling, discomfort) and objective manifestations (redness, swelling, peeling, rash, local temperature increase).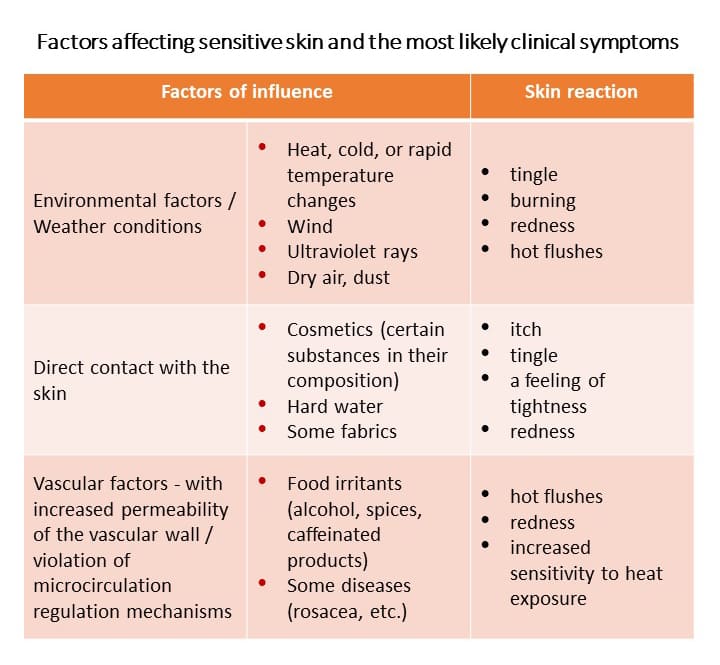 Clinical signs arise under the influence of trigger factors – exogenous and endogenous. Many factors influence the formation of sensitive skin syndrome: age, gender, stress, genetic and constitutional factors, environmental factors, food irritants, dermatological diseases.
In general, increased sensitivity of the skin indicates that its epidermal barrier is broken, the protective and sensory systems of the skin have failed. The cause of this condition must be determined.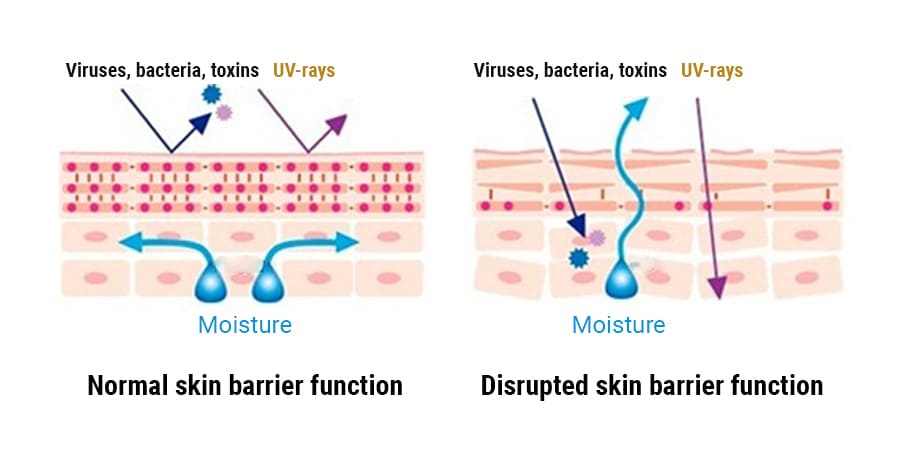 That is, cosmetic care and treatment of skin hypersensitivity must be pathogenetically justified. A differentiated approach is needed, based on knowledge of the provoking factors, the basic mechanisms of the hypersensitivity formation and the characteristics of each patient. This allows you to choose an individual treatment regimen (with mandatory home care!) And improve the skin condition and quality of life of the patient.
How to get rid of discomfort and reduce skin reactivity?
Skin sensitivity is connected with a high reactivity of eosinophils (skin cells responsible for allergic reactions).
Eosinophils produce receptors specific for immunoglobulins E. Under the influence of an allergen or the penetration of parasitic microorganisms, their active synthesis triggers protective immune responses.
Eosinophils stimulate the accumulation and release of biologically active substances that are responsible for the activation and suppression of inflammation processes (inflammatory mediators) in the human body. This is especially true for histamine, a substance that "triggers" an allergic reaction. Eosinophils both reduce the biological activity of histamine and are involved in its secretion. They themselves do not synthesize it, but they have the ability to accumulate histamine produced by other cells, such as basophils (mast cells), and can easily and quickly emit it.
Histamine instantly dilates blood vessels, increases redness of the skin, itching and burning may appear. Then symptoms of the skin barrier damage join, like dryness and peeling.
In this case ANTI-RED CALMING SERUM is perfect in in the morning! It has an emulsion texture that instantly relieves redness. The serum moisturises and protects the whole day! It reduces the feeling of burning, itching, and after a month it controls histamine "flashes".
This serum for sensitive skin is an indispensable tool not only in home care, but also in the beautician's cabin:
to soothe the skin in case of unexpected reactions
during aggressive procedures
BUT! Redness of the face may be associated with stasis of blood in the capillaries, and increased permeability of the vascular wall. Recurrent manifestations can develop into persistent erythema – rosacea (an expanded network of capillaries, telangiectasia), the first stage of rosacea.
The reasons for such manifestations: internal changes – an emotional outburst (adrenaline release), hypertension (increased pressure), idiopathic etiology.
Solution: CONDUCTIVE CALM-BOOSTER at night is a vascular therapy, a way to strengthen the vascular walls, and improve microcirculation, it has a calming effect and regenerates tissue.
This active concentrate for sensitive skin contains plant extracts and is also ideal for skin with signs of couperose and rosacea. In the case of application with device-based techniques (microcurrents, electroporation, iontophoresis, ultrasound), a visible effect is achieved after the first procedure!
Thus, these reNeo Cosmetics products – ANTI-RED CALMING SERUM and CONDUCTIVE CALM-BOOSTER – will allow you to get rid of discomfort, reduce sensitivity and improve the overall condition of the skin of the face.